Updated 9/19/17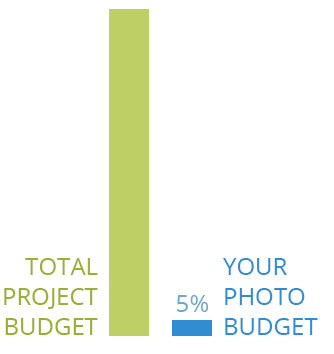 Most people will agree that great, full color images can really make or break the appearance your website. When scoping a new project, we are often asked how much to budget for photographs. Our answer is typically at least 5% of the overall project budget, however that varies depending on the type and style of images needed. For instance, a restaurant will almost always need a commercial photographer to shoot food, interiors/exteriors, the dining experience etc., while a consulting firm may be able to utilize less specific and therefore less expensive options like high-end stock photography.
It's all about the need, the source and the use.
Hire a Photographer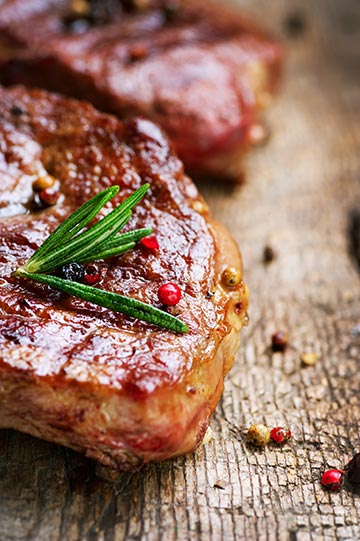 Professional photography is a skill-based service. In spite of our own best efforts, most of us remain amateurs even with an expensive camera.
When seeking to hire a professional photographer pricing to vary based on the photographer's level of experience, duration of the shoot and the type and quantity of images required for your project. Hourly rates range from $65-300, with a full day shoot often running $750-3000.
While the cost may appear higher than other options covered below, it's important to consider the long-term value of the work product. Hiring a photographer yields exactly the images you need—no need to compromise. Your business or organization will receive a great deal of use out of professional photography—the images will not only find their way into the website, but also social media, email newsletters, print collateral, publicity or promotional materials and basically your every marketing effort
Stock Photography Vendors
High-End
The following vendors supply very high-quality, high-concept commercial photography at a commensurate price. "Royalty-free" photos from Getty Images are commonly $50-1000 depending on the resolution of the image. "Rights managed" images are priced according to your planned usage, for example a small 300px x 200px image for an email campaign of one month duration sent to 50,000 subscribers in the U.S. might have one cost while the same image for a 3-month banner ad campaign targeting 25,000,000 impressions in the U.S, Canada, U.K. and Australia would have another.
Affordable
If your project requires many images and you need to stretch your budget, there are alternatives to the high-end photo houses mentioned above. The following vendors typically offer good quality images, although you might need to search a bit. Photos are sold a la carte or on a subscription basis. Single photos at common web sizes (under 2000px longest edge) typically run $1-30 each, while a subscription for 750 downloads/month might average $150-250/month. Most of these vendors have collections in the 10s of millions.
"Free"
There are a number of very low cost or no cost options, but each comes with a caveat. A large selection of images have been released under the Creative Commons license. While such images allow reuse under the terms of the specific Creative Commons license, there have been cases where such images were in fact owned by another entity and released erroneously by a third-party. In such situations, it's still possible to be liable for damages for their unlicensed use. So be careful when reusing any image for which you do have a specific license with a vendor, creator or appropriate entity.
Another option is images with expired copyrights that have fallen into the public domain. Often these will be vintage photos since in the U.S., for example, copyright typically expires 70 years after the creator's death (the duration may vary, be forewarned). However, as with Creative Commons images, a creator may intentionally place a recent image in the public domain by using an appropriate license. There are a number of great sources for such images, but as mentioned before, always be careful about licensing and related intellectual property issues.
Crowdsourcing, Microstock and Social Photography
Let's say you needed photos of customers interacting with your product. It's not uncommon to see people candidly interacting with and photographing commercial brands, businesses and products. Much of this material ends up on random Facebook and Instagram feeds, but there are other sources as well.
Crowdsourcing allows the public to provide materials to you. Take for example a promotion what encourages customers to share a photo of their visit to your location with friends in order to enter to win a prize. While by default the copyright for each image is held by its creator, it may be possible to require participants to grant limited license for the reuse of their entry image in other related promotions or marketing materials.
If you seek more specific candid photos of consumers using your product, photographers can be hired through services such as Twenty20 and Scoopshoot, or regular folks through Fiverr or Taskrabbit.