Email campaign strategy, design, coding, copywriting, testing, and fulfillment. All under one roof.
Effective Email Campaigns of All Sizes
Over the years we've created hundreds of marketing emails for a wide variety of clients. Whether your goal is to drive sales, market products and services, or retain customers, email has an crucial role to play in your marketing mix. We can help you create the sort of email that people can't ignore, that arrives at just the right time.
Still Delivering Great ROI After All These Years
Compared with other online marketing efforts, email remains an extremely effective and inexpensive way to reach your current and future customers.
A 2013 study by the Direct Marketing Association a 4300% average return on email marketing. That seems incredible—$4300 return on every $100 spent. Whether or not we think the numbers are that high, we know they outpace spend significantly.
Contact us to find out how email marketing can significant increase your reach, engagement and bottom line.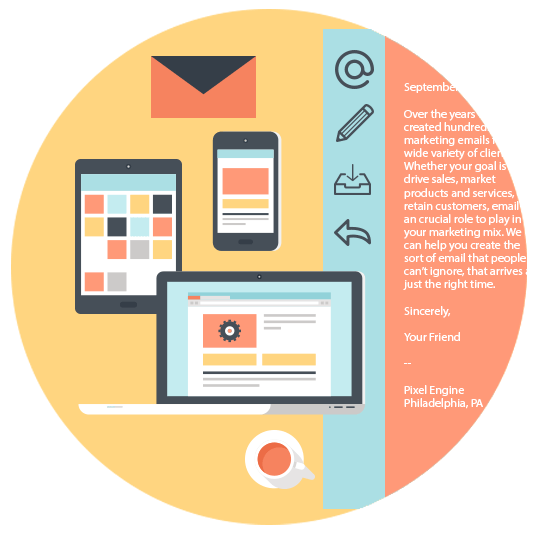 Email Campaign Strategy
Marketing strategy
Campaign development
Planning, management & execution
Reporting & recommendations
Email Design & Development
Email design
Email coding
Responsive email design
Deliverability and spam filter testing
Email client testing & previews (Litmus, Email on Acid)
Mobile testing
Email Fulfillment
List management
Campaign tracking
Self-service or full service options
Campaign tracking
Autoresponder Campaigns
Nurture your customer relationships.
Trickle/Drip campaigns
Lead nurturing
Welcome emails
Onboarding & customer education
Customer birthday messages
Back-in-Stock notifications
Common Vendors & Tools