WooCommerce eCommerce Websites
WooCommerce, the open-source ecommerce solution powering over 40% of all online stores.
Your WooCommerce Store
WooCommerce is the leading ecommerce platform small and medium-sized ecommerce websites—its open-source nature and large, diverse extension ecosystem makes for a flexible, highly-customizable base for your online business.
WooCommerce is a plugin for WordPress, the world's most popular content management system. The two highly integrated tools allow us to develop sites great at both selling products and publishing website content to boost your marketing, drive traffic and sales.
Several popular ecommerce platforms like Shopify and BigCommerce are fundamentally "closed-source" software, meaning developers may not access or modify the fundamental features of the platform. WooCommerce and WordPress are open-source, which means all code is available and can be modified or extended to meet the needs of your business. Likewise, you control all your data—customer information, orders, marketing information, and analytics.
Pixel Engine has a wealth of experience with WordPress and WooCommerce and can design a custom theme for your new store, or can customize one of the hundreds of WooCommerce store themes available to help you start selling online quickly.
Available Features
WooCommerce has a large variety of integrated features itself as well as a collection of over 300 third-party extensions that expand the core system.
Contact us if you'd like if you'd like talk through what WooCommerce can help you grow a thriving online business.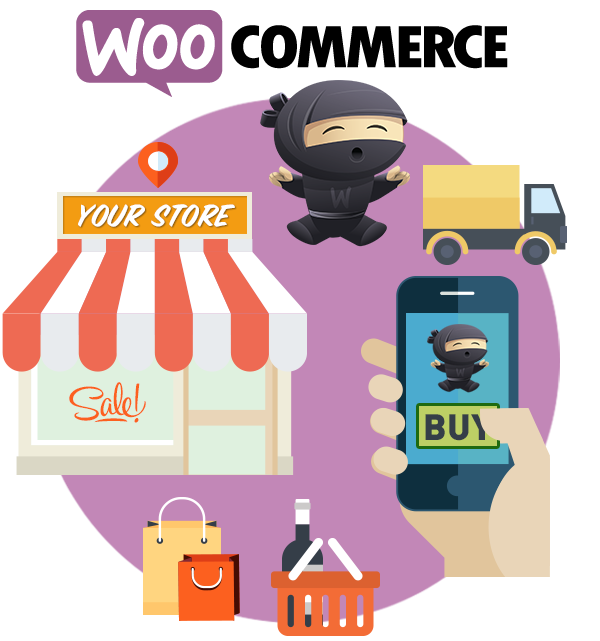 Storefront
Built for WordPress
Sell physical or digital goods (even courses and educational content)
Own your data
Many themes to choose from, or have one custom designed to meet your needs
Mobile-friendly site and shopping cart
Large global community of users of developers
Unlimited products
Many Sellable Product Types
Core:
Simple product
Grouped product
External/affiliate product
Virtual/Downloadable Product
With Extensions:
Subscription product
Bookable product
Measurement-based product
Bundled product
Chained product
Composite product
Force sell
Min/Max quantities
Name your price
Integrated Marketing & SEO
Core:
Leverage the great SEO tools available for WordPress.
Advanced discount coupons and codes
Product reviews
Owner verification for reviews
With Extensions:
Social media integration
Live sales feed
Product bundles
Wishlists
Points and rewards
Cart notifications
One-page checkout
Intelligent Shopping Cart
Preinstalled or additional payment gateways
Enable guest checkout
Sell to specific countries
Set a default currency
Built in geo-location support
Automatic taxes
Redirect to cart when customer adds a product
Add to cart without page reloads
Analytics
Core:
Net and gross sales reports
Sales order reports
Refund reports
Traffic
With Extensions:
Cost of goods reports
Cart reports
Customer history
Anti-fraud
Coupon campaigns reports
And There's More…
Be sure to check out all the other features in detail at WooCommerce.com.