Search Engine Optimization
When you need to be seen online, often the path to success is through search.
Climbing the SEO Mountain
Search engine optimization aims to improve your site's organic or natural search engine ranking for searches relevant to your business or organization. Over the last 20 years SEO has evolved as the search engines themselves have evolved. Tactics that used to work, may no longer yield results. New approaches are constantly being developed, tested and implemented.
SEO now encompasses elements of several fields including content strategy, content marketing, social media marketing, copywriting, and data analysis. We act as your sherpa, guiding you forward while avoiding common pitfalls and bad information from out of date maps to success.
Contact us. We'll take your search ranking to new heights.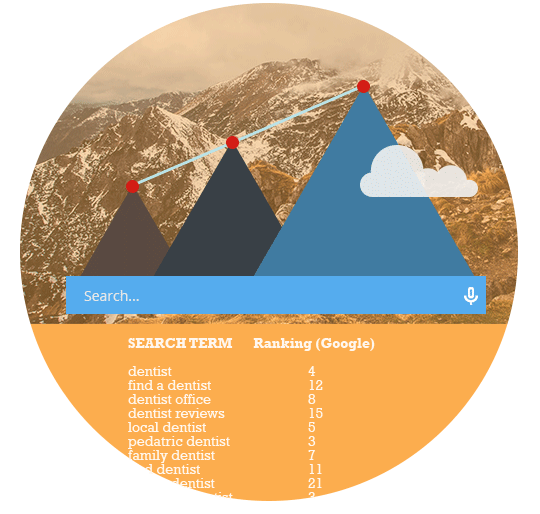 Search Engine Optimization Services
Keyword Analysis
Are you targeting the right keywords? How can you judge the value of a keyword? How competitive is it? Close analysis of data from a variety of sources answers these questions and more.
Competitive Analysis
What keywords are your competitors targeting? What SEO efforts are they making? Are they succeeding? Are your perceived competitors the same as your SEO competitors? Keep track of your competition and make sure you come out on top.
Content Strategy
These days SEO is about far more than tricks and tactics. It's important to have an integrated content strategy, not only for SEO, but for your business as a whole. We'll sort the details and and provide you with the strategy and guidance you need to succeed.
SEO Copywriting
Content producers today often serve two masters—the reader and the search engine. It's necessary to write shareable copy that appeals to readers, while at the same time reflects your overall keyword and ranking strategies. It's never quite as simple as it seems.
Inbound Link Building
Gone are the days when you could buy some links in a directory and call it a day. Today you have to earn your links. Linkbuilding may include outreach, networking, online "PR", community building, and writing solid content that establishes your organization as a thought leader in your field.
Rank Tracking and Reporting
How'd we do you ask? Well, we tell you. Weekly or monthly in depth reports on your sites ranking for your target keywords is a key metric to understanding the success of your overall SEO campaign.