Problem/Symptoms
When attempting to log into your WordPress admin area, a page appears with the error notification 'Your Access to This Site Has Been Temporarily Limited by the Site Owner'.
This message is similar to that encountered when a user's IP is blocked due to multiple failed login attempts.
The feature for sending an unlock email is functional, however the resulting email does not result in unlocking access to the site or does so only temporarily.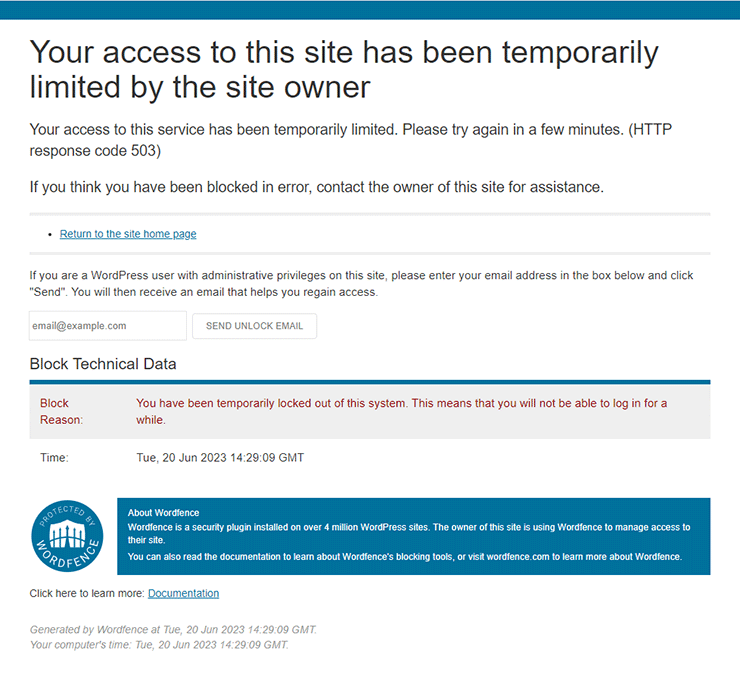 Cause
If your site recently underwent a migration from one server to another that resulted in a change in IP address for the site, Wordfence has difficultly processing the IP address of external traffic. This will result in all traffic reported by the Wordfence Live Traffic feature to show the same IP address (that of the server itself). Therefore, if any traffic is blocked from accessing the WordPress login page, then all traffic is effectively blocked from accessing the WordPress login since from Wordfence's perspective all traffic originates from the same IP address
Temporarily Bypass Wordfence
If you an immediate pressing need to access your WordPress installation, and you have FTP/SFTP or file manager access to your account, you can navigate to the directory /wp-content/plugins and rename the wordfence directory to wordfence.bak. This will effectively deactivate and the plugin allowing you to access the WordPress login. NOTE: doing so will take the plugin and associated security features offline, so do so only temporally at your own risk. After you complete your task, be sure to name the wordfence.bak directory to wordfence again. If you then refresh the WordPress administration Plugins page, you should be able to see Wordfence active again, if not, you can activate it from there.
Relationship to Siteground Migrations
Siteground has recently been migrating sites from its previous infrastructure to Google Cloud Services. Sites how do not use Siteground for DNS services and maintain external DNS with providers such as GoDaddy, Namecheap, Google Domains etc. are required to update the DNS A zone record to point to the new IP address of the site's server. The new email address can be found in a post-migration email from Siteground post-migration, or in the Site Tools section of your Siteground account.
Some site owners have reported similar issues with other migrations or the use of Cloudflare.
Solution
Update your site's DNS A zone record IP address to point to the IP address of the new server. Doing so should resolve the issue as soon as the new A zone record propagates.
Drop Us a Note
If this solution worked for you, or if you ran into other related issues, drop us a note in the comments below.