Last Updated 4/29/20.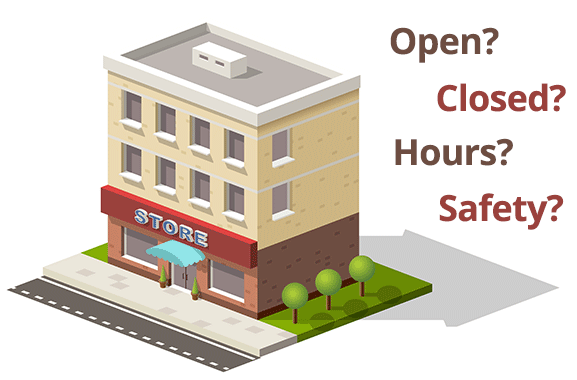 The COVID-19 pandemic has forced closures of non-essential businesses in the U.S. These closures have brought with them a host of communications issues as customers struggle to understand whether a business is open, partially closed, fully closed, or even safe to visit for the duration. Many small businesses have been so embroiled with other logistics and staffing issues that communicating with the public or their customers has taken a back seat. So let's make it a bit easier to sort out what they should do next:
Your Communication Checklist
Number One Priority
Don't go silent. You may be struggling with radical changes, but don't turn inward. Communicate regularly.
Website
Create a new page or blog post on your site to serve as a central location for your updates and announcements. Use a simple, memorable address such as yourdomain.com/COVID-19/
Create a list of Frequently Asked Questions. Add to it over time. Make sure your answers are up to date and accurate.
Link your new COVID-19 page from prominent locations on your site. Use a site wide notification bar that persists when you scroll down any page of the site to link to the new page.
Add your temporary hours to your contact page and other areas (footer, sidebar) where hours exist. Take note of your original hours so they can be restored eventually.
Make sure you cover the key points outlined at the end of this post.
Make sure all automated messages (contact form thank you page or confirmations, ecommerce emails, newsletter sign-ups) generated by the site are appropriate to the circumstances.
Examine your current messaging across your full site. Are you providing accurate information? Setting the right expectations? If your images or copy requires adjustment, do so as soon as possible.
If you don't have a website, buy a domain and get something in place immediately by whatever means. Contact us if you have questions.
Google My Business (GMB)
Take a moment and review your entire Google My Business listing listing for completeness and accuracy.
Add temporary hours to your listing.
Add a short post to Google My Business that gives a statement of your availability and activity.
Google added a COVID-19 Google My Business post type that lasts for 14 days. It doesn't support a photo currently.
If you don't have a Google My Business listing, create a Google account for your business, set up GMB and claim your business.
Bing Places
Add your temporary hours to your listing.
List any special offers you may run in the Offers section of the dashboard.
If you are closed, use the new Temporarily Closed feature on the bottom left of the business dashboard.
You may want to download the Bing Places app from the Apple App Store or Google Play store so you can manage your Bing Places listing on the go.
Special COVID-10 Bing Places for Business features released including Announcements, GoFundMe Campaigns, Special Hours and Temporary Closure.
If you don't have a Bing Places for Business listing, create a Bing account for your business and set one up.
Social Media
Update your temporary hours on all platforms. Use the about description if necessary.
Reference your COVID-19 web page on all platforms regularly. Note: Platforms such as Twitter may require more frequent posting to reach a similar portion of your followers. Likewise, Instagram may require different content that your other channels.
Be sure to pin/sticky your current key messaging so it appears at the top of your social media page's feed.
If you are using social media to provide updates, remember to publish key information back to your COVID-19 web page. Keep that page up to date. Then, make sure that information finds it way back out on your other channels (email, social, SMS, mobile app etc.). Some buried Tweet from several days ago should not be the only place to find some key piece of information.
Email Communications
Prepare to send out more email communications than normal as needed.
Cover all the key points on your COVID-19 webpage in your first email.
Let customers know how and when you will be providing updates ("our quarterly newsletter will now be weekly").
If possible, segment your email list by geography if circumstances (and messaging) need differ by location.
Don't feel the need to always be serious, but be so when needed.
Ad-hoc Networks, Resources & Online Discussions
A number of local and regional resources have been developed by citizens, for example Google Sheets of local restaurants providing takeout and delivery service, or Facebook groups dedicated to local businesses, a local area, etc. Locate those resources relevant to your situation and join or monitor them.
Note that although Google has suspended Google My Business reviews for the moment, people still talk. If your grocery store has no COVID-19 precautions in place, or your property management company has been aggressively resistant to a rent pause, that's most likely a topic of discussion online. Find those conversations and use them to adjust your practices, or address the issues they raise in your own communications. These customers are going to remember how you handle a crisis well after it ends.
How to Communicate
When creating any communication with the public, focus on these key aspects:
Brevity. Be short and to the point.
Facts. Lead with the facts. Stay focused on them. Don't waver unless the forum requires direct response to questions.
Clarity. Don't create confusion. Don't create noise. Don't inject opinion or editorialize.
Calm. Stay focused and centered even in the face of criticism. Your calm will instill calm in your customers.
Perspective. Understand the perspective of your customers. What do they most need to know? What would you need to know from your competitor? Deliver that information.
Be Human. Be empathetic. Avoid jargon. Be sincere.
Key Points to Communicate
In general you should set out any changes to your operations, then reassure your clients and customers regarding operations that will stay the same. Finally, tell them how to stay updated going forward.
Be sure to cover the following key points in your communications:
Are you open, closed or partially open
Your new, temporary hours of operation
Instructions for in-person interactions (if appropriate)
Alternative methods for getting in touch with customer service or other staff
Expected delays
Assurances for services that won't be delayed or disrupted
Safety proceedures in place for both staff and customer interactions
Event cancellations, delays or changes
Cancellation policies if applicable
Note the constantly changing situation
Clarify how customers can stay updated going forward
If you have special offers or services (no touch pickup, free shipping, discounted gift cards, bulk purchases, a selection of essential items), let everyone know.
If you are able to cater to customers with special needs or circumstances, let them know.
Keep it positive.
Above all be safe, take measures to ensure the safety of your staff, and follow recommended health guidelines.